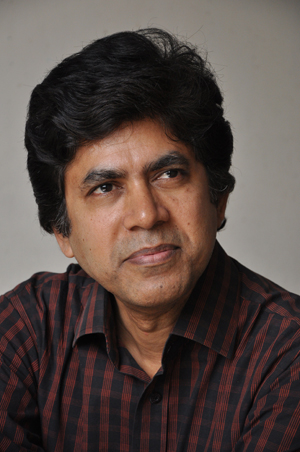 Bangladeshi Novels is a decade-long initiative by Subrata Kumar Das, a critic, essayist, editor, translator and organizer. A member of the Writers' Union of Canada, Subrata is now working as the Executive Director of Bengali Literary Resource Centre (BLRC) Inc. since its inception in March 2015. Previously he was also associated with BRAC as an editor.  He has involvement with some other educational and literary institutions as well.
Dr. Dilip Chakraborty's following article may help you to understand Subrata:
A Feather in the Cap of Canadian Bengali Diaspora.
His fields of interest are fiction and education. For long he has involved students in intercultural dialogues across the world. He led a team in Mondialogo School Contest 2005-2006 conducted by UNESCO and became the leader-teacher of one of the 50 finalist teams and attended the Rome Symposium. In 2007, he attended Mondialogo Engineering Symposium, Mumbai.
Since 2007, he has worked as an Expert for Agenda21Now Internet Conference, conducted by some European Schools.
Since 1994, he has been writing enormously on different aspects, particularly on literature, education and socio-cultural activities. Moreover, he has taken some initiatives to translate literary pieces written from Bengali into English and vice versa.
Subrata is married to Nilima Datta and a proud father of a daughter Brotee Das Datta. Since August 2013, he has been living in Toronto, Canada.
Publications:
Published Books:
SriChaitanyaDeb, Toronto, 2015
Aamar Mahabharata (My Mahabharata), Dhaka, 2014
Nazrul-biksha (Knowledge on Nazrul), Dhaka, 2013
Rabindranath: Ingreji Shekhano (Rabindranath: Teaching English), Dhaka, 2012
Rabindranath O Mahabharata (Rabindranath and the Mahabharata), Dhaka, 2012
Rabindranath: Kom-jana, Ojana (Rabindranath: Less-known, Unknown), Dhaka, 2011
Bangladesher Koyekjon Ouponyashik (Some Novelists of Bangladesh), Dhaka, 2005
Proshongo: Shiksha o Shahitya (About Education and Literature), Dhaka, 2005
Nazrul Bishoyok Doshti Probhondho (Ten Essays on Nazrul), Dhaka, 2004
Bangla Kathasahitya : Jadubastabata Ebong Onanyo (Bengali Literature: Magic Realism and Others), Dhaka, 2002
Nazruler 'Bandhonhara' ('Bandhanhara of Nazrul), Dhaka, 2000
Translated Books:
Rabindranath Tagore: India-Japan Cooperation Perspectives, India Center Foundation, Japan, 2011
Parobaas (Translation of Imdadul Haq Milon's novel with Prof. Mozaffar Hossain), Dhaka, 2009
Christian Religious Studies for Class V (With Enayet Karim), National Curriculum for Textbook Board, Dhaka, 2007
Kazi Nazrul Islam: Speeches (With Prof. Mozaffar Hossain), Nazrul Institute, Dhaka, 2005
Kazi Nazrul Islam: Selected Prose (Translation), Nazrul Institute, Dhaka, 2004
Edited Books:
Japan Probash ('Japan in the Eyes of an Expatriate' by Manmathanath Ghosh), Dhaka, 2012
Sekaler Bangla Samoyikpotre Japan (Japan in the Bengali Periodicals of the Bygone Days), Dhaka 2012
Ogronthito Mozaffar Hossain (Mozaffar Hossain's Uncompiled Writings), Dhaka, 2011
Korokdi Ekti Gram (Korokdi is a Village), Dhaka, 2011
Links of some of his e-books:
Reviews on his books
He was born at Kamarkhali in the district of Faridpur, Bangladesh in 1964. He is the fifth child among eight of his parents Geeta Rani Das and Late Baidyanath Das. He graduated with honors and completed his masters in English from Rajshahi University. Since January 1990, he has taught English literature at tertiary and college levels for more than twenty years. Earlier he was Associate Professor at Western College, and Cambrian College, Dhaka, Adjunct Faculty at Darul Ihsan University and lecturer at Birshrestha Munshi Abdur Rouf Rifles College, Dhaka, Cantonment Public School and College, Savar, Kamarkhali Munshi Abdur Rouf Degree College, Faridpur.